El saga del tooth continues. I had a check up today where I informed the man in charge that I tweaked my implant with an Allen wrench. He was not happy to hear that, but said the x-ray looked alright.
Even at this point, with multiple root canalled teeth and one implant, I still wasn't really sure what a root canal was and why I had to have them done in the first place. Basically, what a root canal does is provide an exit for an abscess that is forming at the end of the tooth root.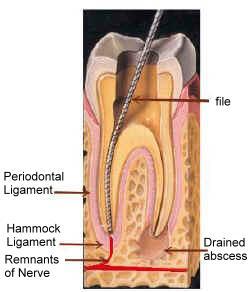 With this in mind, I'm trying to think back to the times I was told I needed a root canal. I don't recall any dentist ever really explaining that it was necessary to form a channel in the tooth by drilling out the nerves so any abscesses at the end of the roots could drain and heal. I'm not even sure I was told I had an abscess forming. Not to call into question the expertise of the many dentists I've worked with over the years, but it does make me wonder if I really needed some of those root canals after all.