So here's an odd one. Over the last few years I started having problems with gout in my right foot. It's odd because every time I go to the doctor for it they tell me to lay off the booze and eat less meat. The reason this is odd is the fact that I don't drink, save for one pint (only one) of cider a couple times a month, and a rare shot of Irish cream liqueur once or twice a year. I've also been a vegetarian for the last 13 years, so cutting more meat from my diet isn't really possible.
I always thought Gout was some kind of old person's disease, but it turns out even the relatively young (early 30s is still young, right?) can still have problems with uric acid build up. Somehow, my uric acid levels are getting too high, and when that happens, very sharp crystals start forming in my joints and start causing probably the worst pain I've ever experienced… at least the worst pain I've ever experienced that carries on and on all day and all night without end. The first day of an acute attack usually begins as a dull pain with some slight swelling. You can see my right foot is red and puffy, particularly around the big toe.
By the second morning, I usually can't walk. In fact, the worst time I had with it was when I was driving from Savannah, GA back to Seattle. It got so bad I had to stop and get a cheap pair of shoes and cut the toe out of the right one. This let my big toe dangle out and, with the help of a cane, let me hobble around the French Quarter of New Orleans. I should have picked up a white suit and hat, it would have looked absolutely normal then!
The problem I keep running into, is that all the medical industry has to offer me is prevention advice that doesn't pertain to me (cut out meat and booze), or uricosuric medications like benzbromarone, Probalan (probenecid), or Anturane (sulfinpyrazone) medications that will forcefully push uric acid out in my urin, possibly damaging my kidneys and definitely increasing the chance of other problems arising.
The only other source for information on the topic is Google, which leads me to literally thousands of sites either selling herbs or prophesying about the wonders of home remedies like cherry juice, tomatoes, and lemon juice.
Often times they contradict each other (citrus fruit bad, lemon juice good). Sometimes the anecdotes don't seem to make much sense to me either. For example, one guy said this:
At breakfast, lunch and after dinner – drank a 24 ounce glass of half water/half unsweetened black cherry juice, a teaspoon of baking soda, and two tablespoons of Bragg's (Apple Cider Vinegar). Within three days, I have stopped taking my indomethecin, and watched in amazement at the shrinking back to normal of my long swollen ankle.
Vinegar is an acid, and baking soda is a base. They cancel each other out in a nice foamy reaction (a la paper mache volcano). What you have left is a cidery tasting water… but maybe that's the point? I don't know, I just know I tried it and it didn't seem to work.
I thought I had the solution one day when I noticed the pain starting in my foot. I was heading to a baseball game with Jenny and found myself wondering if I would be able to get up and walk by the end of the game. The stadium had "famous garlic fries" and I just had to try them. I bought two small "boats" of garlic fries and two small hot chocolates… $22 bucks! The garlic fries were actually just garlic with a few fries. There was literally more garlic in that fry boat than potato, and we couldn't handle it. After a few fries we started to consider just tossing the fries out, but then the cheap side of me kicked in and suddenly there was no way I was going to throw away $15! So, I powered through it and ate both boats in 30 minutes, and basically burnt out my mouth and digestive tract for the remainder of the night… and next day… and day after that. Vampires two states over were wondering if they should move to the East coast to get away from the smell.
But, my point is, that night my foot really started to hurt, but the next morning it was all gone. All the pain had vanished! The thought at the time was that the garlic had done the trick and somehow got my uric acid levels to plummet. After that, I started reading how garlic was some kind of magic blood cleaner and that it cured all kinds of things. Well, I thought that was the answer… keep downing garlic and no more gout.
Then a few weeks ago I started getting that now familiar feeling in my right big toe (see above picture). I went right for the garlic and started chopping up cloves. After burning out my entire system for 2 days, it wasn't going away. I really thought I had the answer, but the fact is garlic every day only keeps people away, not gout. So, I really settled into finding a solution, because being out of commission for 1-2 weeks is not an option, especially now that the sun is coming out for summer. I settled in and read just about every crazy site there is on the subject. This is what I found.
After trying all kinds of things, one at a time, over the course of two weeks, including eating nothing but tomatoes, the only thing I found that works for me is cherries, figs, almonds, and water. Now, a lot of people suggest eating cherries and miraculously their gout goes away almost instantly. For me, the trick wasn't to eat cherries, it was to restrict my diet to only almonds and cherries, and drinking a lot of water, for three days. As soon as I started that diet, the pain steadily decreased until it was a very low level irritation, then I started eating other foods like figs for another couple days, then I began eating normally. If you try this diet, I hope you're able to stay near a toilet at all times. You will be thoroughly "cleaned out", so to speak. – READ MY FINAL "CURE FOR GOUT" POST!
Now it's been a week or two since I last had pain in my foot, but the aftermath is still visible in that the structure of my foot has changed. This bump will probably be there for another month or two while my body tries to repair the damage done by all those crystals tearing up my tissue.
So that's how I got rid of it, but why, with my diet, did I get it in the first place? I can only assume it was from a combination of things that include;
#1) over eating – excess food only turns to excess uric acid
#2) supplements containing niacin, which slows uric acid extraction & excretion
#3) acetaminophen and aspirin based pain relievers, which slow uric acid extraction & excretion
So now I'm looking to lose weight through eating less and working out more. To that end, we've taken to going on bicycle rides through the beautiful backroads our town has to offer. I secured a bin to the back of my bicycle so we can bring the dog (he'll poop inside if we leave him for too long). Don't worry, he's secured in the bin with a short leash 😉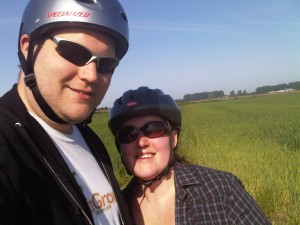 As you can see we've both become happy little chunky monkeys, but by the end of summer we should be all ship shape… just in time to pack it on for the winter hibernation 😉
Tags: health